Lithuanian Experimental Jazz Comes To China
Lithuanian experimental psychedelic jazz trio Sheep Got Waxed will embark on their debut China Tour
I had the opportunity to participate in Lithuania's leading showcase festival and international music industry conference, What's Next in Music?, organized by the Lithuanian Music Business Association. I was joined by Warren Chien (MTA Festival | YEMA Live) and Mathew Daniel (NetEase Cloud Music), Philipp Grefer (FakeMusicMedia) and Agne Biliunaite (Lithuanian Embassy Culture Attache) on a panel called "Focus Market: China" as well as participating in "The Moment Of Truth: Foreign Experts Evaluate The Bands Of What's Next in Music?".
While in Lithuania, I had the chance to discover a vibrant music scene and sign some talented acts such as Colours of Bubbles and Sheep Got Waxed. The latter, an experimental psychedelic jazz trio who were awarded Vilnius Jazz Young Power Grand Prix, will be doing a short tour in China's southern Guangdong province, including the OCT-Loft Jazz Festival later this month.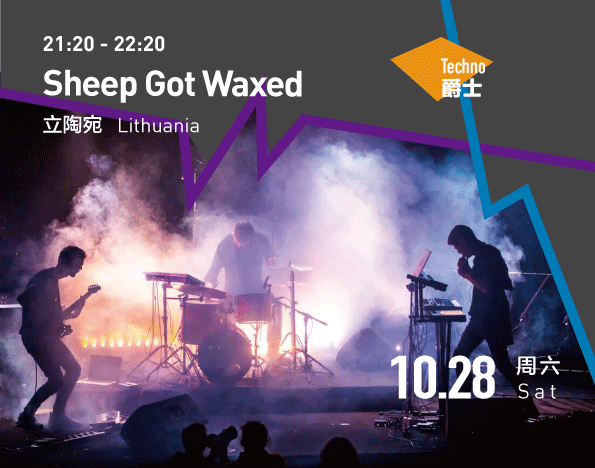 SHEEP GOT WAXED CHINA TOUR
Golden Jazz CMI, Zhuhai
October 27, 9:00pm
7th Oct-Loft Jazz Festival
B10 Live, Shenzhen
October 28, 9:20pm
191 Space, Guangzhou
October 29, 8:00pm
Sheep Got Waxed是新兴的"异类"乐队里备受瞩目的一支。他们的音乐虽然复杂,却也并非晦涩难懂。乐队的成员们在演奏时都会手脚并用,用吉他、萨克斯和架子鼓,配合以多种多样的效果器和电子打击乐,展现了爵士乐、电子乐与学院派音乐的另一面。
乐队成员有着电子乐甚至重金属音乐的背景(在最初的几场演出时有些成员还留着长发),而他们现在的风格则介于自由爵士和实验电子之间,尽管依然非常难以定义。正如一位观众在看完他们的演出之后评价的那样,他们的音乐听起来像techno、footwork,与Death Grips式的trap和George Michael对早期The Beatles作品翻唱的混合体。所以说,无论你喜欢什么样的风格,Sheep Got Waxed的音乐应该都能让你过耳难忘。
迄今为止,Sheep Got Waxed已发行了两张专辑——2014年的同名专辑和2016年《PUSHY》,并在立陶宛、拉脱维亚、爱沙尼亚、俄罗斯、法国、西班牙和英国等地进行过巡演。他们曾被授予Vilnius Jazz Young Power Grand Prix,并两度获立陶宛音乐协会年度奖M.A.M.A.提名。他们也涉足戏剧和电影领域,为其制作音乐。
Related MusicDish e-Journal Articles:
» What's Next in Music? Focuses On China - This year's "What's Next in Music?" will include a panel called "Focus Market: China" (2017-08-15)
---
MusicDish*China
»
Live Nation Electronic Asia Inks Deal with Budweiser for Creamfields Festivals
»
Andy Ma Appointed Warner Music China CEO
»
The 2018 MIDEM Silk Road International Music Alliance Signing
»
MusicDish Announces A Love Electric 2018 China Tour
»
Avant-Garde Label Maybe Noise Launches In Beijing
---

» [2018-09-16] Live Nation Electronic Asia Inks Deal With Budweiser For Creamfields Festivals; Together, Creamfields And Budweiser Will Focus On Building Entirely New Content For Dedicated Electronic Music Fans Throughout Asia

» [2018-08-23] Andy Ma Appointed Warner Music China CEO; Andy Ma Has Also Been Appointed EVP, Commercial And Business Development For Greater China

» [2018-08-23] IndieOn Connects Music To The Blockchain; IndieOn Is Confident Of Creating A "music Miner" Who Listens More And Grow Their Token Value

» [2018-06-23] The 2018 MIDEM Silk Road International Music Alliance Signing; International Music Industries Signing Of A Mutual Resource Sharing Agreement With Shanghai Conservatory Of Music & The China Records Group

» [2018-06-06] Screen Music Connect To Explore The Music Of Film, Television And Interactive Media; Created By James Hannigan, Award-winning Composer And Game Music Connect Co-founder, Screen Music Connect Builds On The Success Of The Sold-out Game Music Conferences

» [2018-06-05] Fred Casimir To Develop BMG's Global Recordings Business; As Well As Building BMG's European Infrastructure, Casimir Was Instrumental In Developing BMG's Recordings Business

» [2018-06-03] 13 Music Label Sold To MTN; DSN Music Spins Off Record Label To Albuquerque Music Entrepreneur's New Group

» [2018-06-02] CISAC 2018 Annual Report; A Comprehensive Overview Of The Confederation's Work To Serve 4 Million Creators And 239 Authors Societies Across The World

» [2018-06-02] MusicDish Announces A Love Electric 2018 China Tour; The Tour Will Crisscross Through China With 12 Shows In 8 Cities, Including Guangzhou, Dongguan, Zhuhai, Shenzhen, Kunming, Jiaxin, Wuhan And Beijing

» [2018-06-02] Darcus Beese Named President Of Island Records; Renowned U.K. Music Executive To Join Universal Music Group's U.S. Label Leadership

» [2018-05-17] Avant-Garde Label Maybe Noise Launches In Beijing; The Official Launch Will Be On May 26 At Magnet Theater With A Performance Supporting Its First Vinyl Release: Píng Zè

» [2018-05-04] Award-Winning Lithuanian Rock Band Colours Of Bubbles "She Is The Darkness" 2018 China Tour; The Tour Will Kickoff In Shanghai Where The Band Will Represent Lithuania During The Country's Signing To The Silk Road Music Alliance

follow MusicDish on